Single Cells, sequencing and samba in Rio de Janeiro, Brazil 
Single cell biology training for scientists based in Latin America 
This month, the Wellcome Connecting Science Learning and Training team, and colleagues from the Wellcome Sanger Institute (WSI), joined forces with the Instituto Nacional de Câncer (INCA), to deliver a Single Cell Genomics course for scientists working across Latin American countries and the Caribbean islands.
The first course of its kind to be delivered in this region, expert trainers from Latin America, North America, and the UK, led participants through hands-on laboratory and computational bioinformatics sessions, to develop a community of scientists able to apply single cell technologies and approaches to their own research questions.
As with all Connecting Science courses, emphasis was placed on blending training time with opportunities to network and build strong relationships between participants; cultivating a community of practice, to create pathways for continued mentorship and learning, beyond the course.
Over eight days, participants evolved through an integrated journey of wet-lab and computational sessions, underpinned by guest lectures exploring everything from designing single cell experiments to spatial transcriptomics.
A highlight of our training activities so far, Single Cell Genomics Rio 2023 was a joyous learning experience for everyone involved – from students to instructors.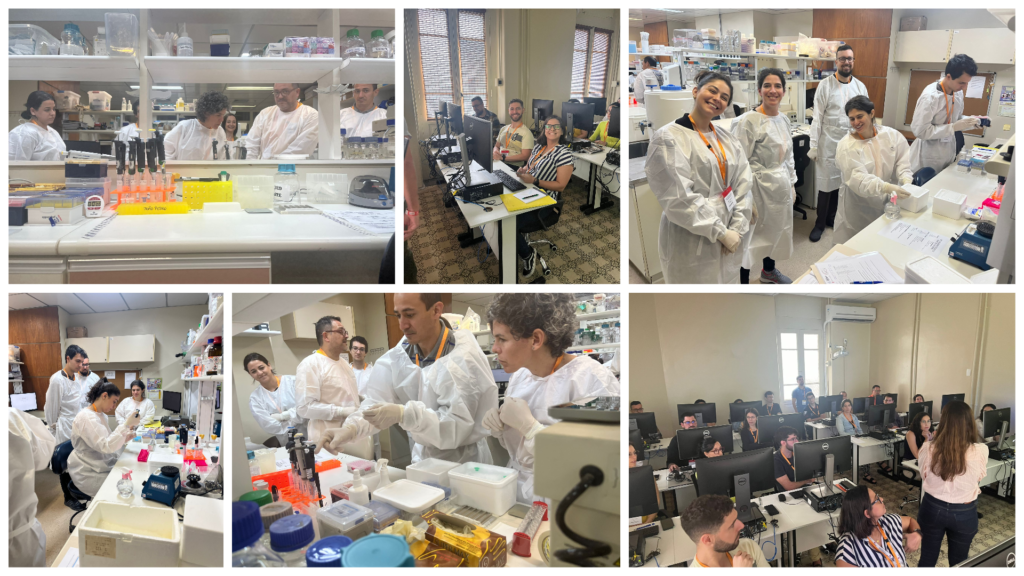 Single Cell Rio 2023: The 1st hands-on wet & dry-lab single cell course in Latin America, in my home country too! This experience is up there with the most rewarding of my career so far. Still in awe I was asked co-lead the lab practicals!
Single Cell Río 2023: ¡El primer curso práctico de Single Cell en laboratorio húmedo y seco en América Latina, y además en mi país natal! Esta experiencia está entre las más gratificantes de mi carrera hasta ahora. ¡Todavía estoy asombrada de que me hayan pedido co-liderar las prácticas de laboratorio!
Single Cell Rio 2023: O 1º curso prático de Single Cell em laboratório molhado e seco na América Latina, e ainda por cima no meu país de origem! Essa experiência está entre as mais gratificantes da minha carreira até agora. Ainda estou maravilhada por ter sido convidada para co-liderar as práticas de laboratório!
Anita Scoones, Earlham Institute, UK and Single Cell Genomics 2023 instructor 
Here we share a snapshot of the course experience! 
The lab experiments
Three days of intense laboratory work, kindly hosted by Patricia Possik, in her laboratory facility based at the Instituto Nacional de Câncer – INCA, kicked off the practical phase of the course.
These lessons centred on best practices approaches for planning and performing single cell experiments; providing participants with a framework for an effective single cell project pipeline, to support real-world biological questions.
Social sharing brought the course alive throughout our time in Brazil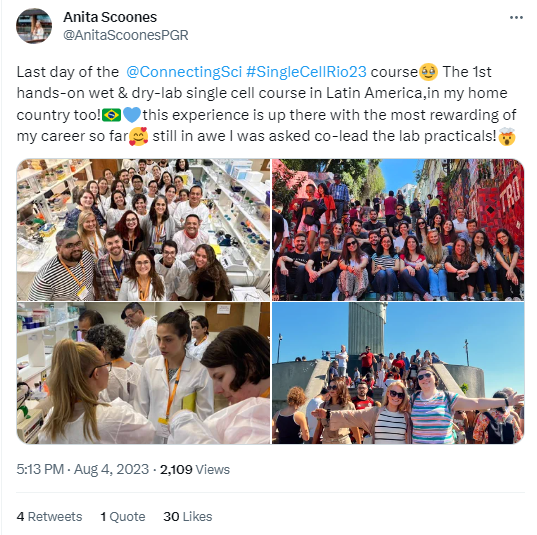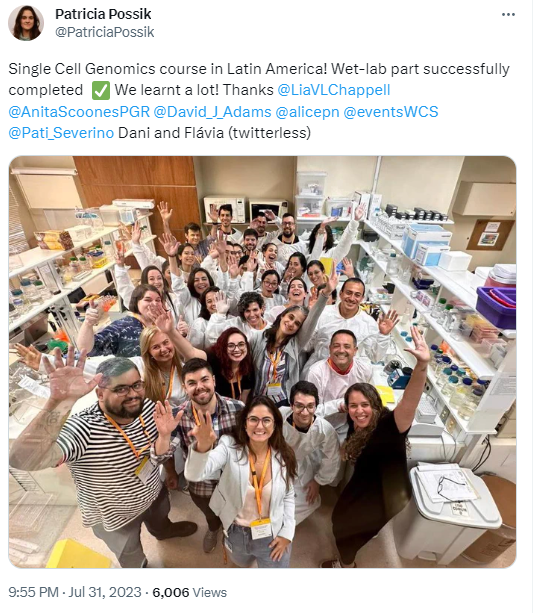 So lucky to be here! Amazing instructors and colleagues
¡Tan afortunada de estar aquí! Instructores y colegas increíbles
Tão sortuda por estar aqui! Instrutores e colegas incríveis
Silvana Pereyra, Single Cell Genomics 2023 participant 
The data analysis
The bioinformatics phase of the course was held in a former residence of Oswaldo Cruz, a pioneering Brazillian physician and epidemiologist. Here, using R programming, course instructors including Mariana Boroni (from INCA), detailed the process of single cell analysis.
Our colleagues from the WSI, joined instructors from: the Instituto Nacional de Câncer – INCA, University of Chile, Colombian Institute of Tropical Medicine (ICMT), Albert Einstein Research & Education Institute, Pontificia Universidad Católica de Chile, and many more. This blend of global experts provided a wealth of knowledge, support, and inspiration for our group of twenty scientists, representing talent from eight countries across Latin America.
Click through to view a photo gallery of the training sessions
Course participants training in Patricia Possik's laboratory facility based at the Instituto Nacional de Câncer - INCA
Course participants training in Patricia Possik's laboratory facility based at the Instituto Nacional de Câncer - INCA
Course participants working together on a group exercise in Patricia Possik's laboratory
Instructor team for Single Cell Genomics 2023, Brazil
Mariana Boroni leading a bioinformatics session
"Many hands make light work" – group projects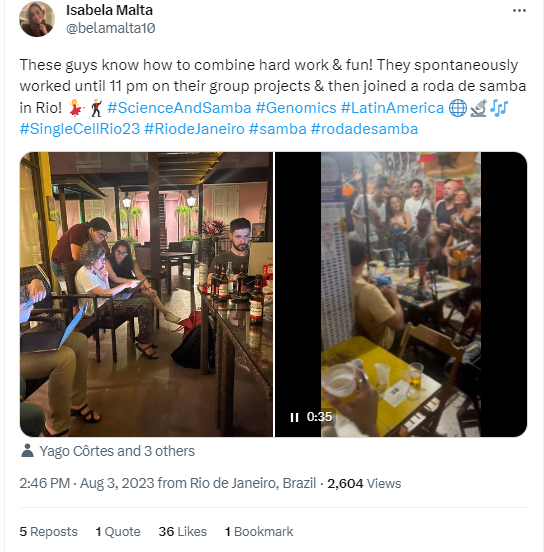 Throughout the course, participants collaborated on group projects to facilitate the benefits of knowledge sharing; helping to strengthen communication skills and problem solving abilities.
This peer-to-peer interaction is the linchpin for building communities of practice, and it doesn't necessarily mean all work and no play. Our dedicated group collectively worked on their projects until 11pm, and then celebrated with a roda de samba afterwards!
To complete the learning and sharing experience, a virtual panel discussion explored opportunities and obstacles for developing single cell genomics capacity in Latin America. From funding limitations to lengthy waiting times for ordering reagents, the talented scientists met these challenges with enthusiasm and passion; brainstorming potential solutions. A session on writing grant and project proposals, brought further opportunity (and celebrations), as four scientists were awarded full bursaries to attend the upcoming Single Cell Biology conference in 2024, generously funded by WCS, WSI, and the Chan Zuckerberg Initiative (CZI), and hosted at Hinxton Hall Conference Centre, Wellcome Genome Campus, UK.
All that's left to be said, is a huge thank you to the instructors, speakers, and extremely dedicated participants, who made Single Cell Genomics 2023, in Brazil such a special experience!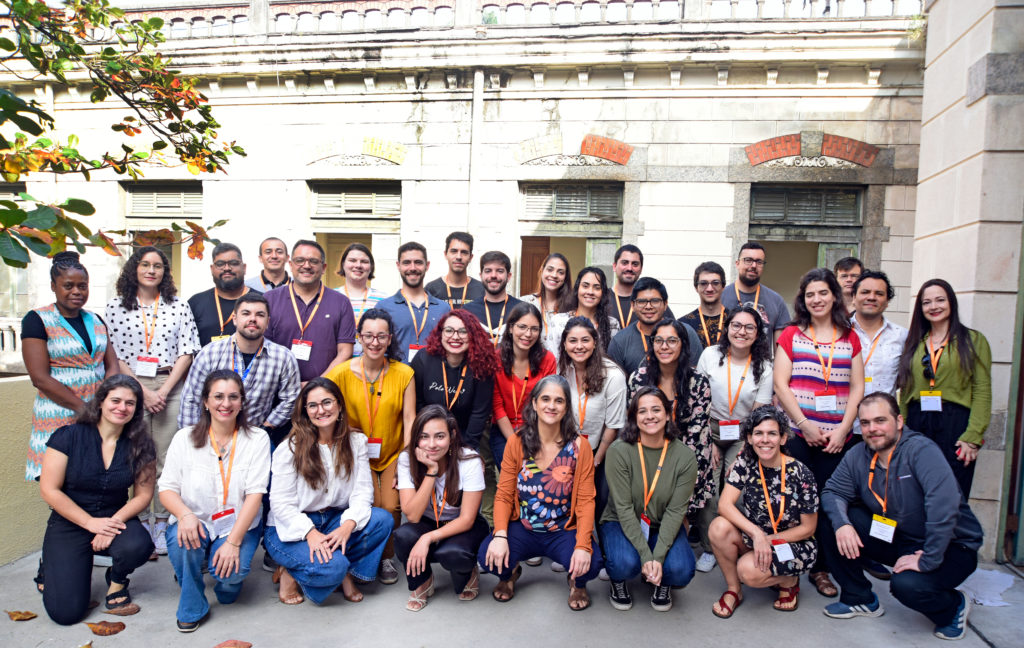 With thanks to Instituto Nacional de Câncer (INCA), and Isabella Malta, Wellcome Connecting Science for the photography.
Back to top