The Challenge of Chronic Pain
4–6 March 2019
Wellcome Genome Campus, UK
Focusing on the translation of basic research insights into new therapies for pain
Summary
Chronic pain is a major healthcare challenge across the globe. Approximately 20% of the world's population suffers from ongoing pain that severely impacts their quality of life. Many of these individuals are poorly served with currently available treatment modalities. This can lead to opioid abuse and overdose following their use of prescription opioids intended for pain relief. An opioid epidemic that has stemmed largely from the desire to treat chronic pain reveals the root problem:  the critical need to discover, test and implement new, improved and safe treatments for chronic pain.
This is the ideal time to attend the 2019 Challenge of Chronic Pain Conference, which will showcase the most recent discoveries and potential avenues for therapies in chronic pain research and treatment. World leaders in pain research including those working in basic science, translational research and clinical therapies will present the latest and most promising findings, as well as the challenges left to overcome.
Important, timely topics will include the clinical landscape of pain syndromes, mechanistic underpinnings of structural and functional plasticity in neural pathways, evidence that pain mechanisms can differ across females and males. We will also focus on the early childhood influences and trauma on development of chronic pain in later life, the need for increased rigor and transparency to identify truly translatable pain therapies, complex influences of the brain on pain perception and the potential of individual genetic analyses towards personalized pain medicine.
Trainees, basic scientists, clinicians, industry developers and educators from across the globe are encouraged to participate in these discussions, which promise to increase our understanding of pain mechanisms and facilitate a path to improved therapies. Abstracts are welcome from all areas relevant to the main themes of the conference.
Programme
The conference will start at approximately 12:00 on Monday 4 March, and close at 13.30 on Wednesday 6 March 2019.
Topics will include
Molecules and cells of nociception
Neural circuits in pain and the effects of opioids
Development and transition to chronic pain
Pain in the brain
Genetics of pain
Translation and new therapeutics in pain
Organisers and speakers
Scientific programme committee
Rohini Kuner
University of Heidelberg, Germany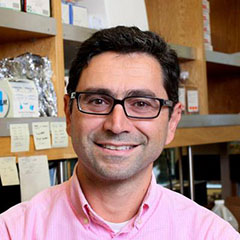 Ardem Patapoutian
The Scripps Research Institute, USA
Confirmed speakers
David Bennett – University of Oxford,UK
Catherine Cahill – UCLA, USA
James Eisenach – Wake Forest University, USA
Maria Fitzgerald – University College London, UK
Herta Flor – University of Heidleberg, Germany
Paul Heppenstall – EMBL-Rome, Italy
Aziz Moqrich – Aix Marseille Université, France
Theodore Price – University of Texas at Dallas, USA
Gregory Scherrer – Stanford Unniversity, USA
Rebecca Seal – University of Pittsburgh, USA
Cheryl Stucky – Medical College of Wisconsin, USA
Irene Tracey – University of Oxford, UK
Thomas Voets – KU Leuven–VIB, Belgium
Scientific Conferences Team
Treasa Creavin, Scientific Programme Manager
Lucy Criddle, Conference & Events Organiser
How to apply
Early bird discount
(until 18 December)

Standard rate
(after 18 December)
Student
No accommodation
£179
£279
Student
On-site twin accommodation
£285
£385
Student
On-site single accommodation
£349
£449
Academic
No accommodation
£279
£379
Academic
On-site twin accommodation
£385
£485
Academic
On-site single accommodation
£449
£549
Commercial
No accommodation
£379
£479
Commercial
On-site twin accommodation
£485
£585
Commercial
On-site single accommodation
£549
£649
The registration fee includes entrance to the lectures and poster sessions, an abstract book, meals (lunch and dinner) and refreshments during the conference. Breakfast will be provided for delegates who have booked accommodation.
Accommodation
Accommodation is provided for the nights of 4 and 5 March 2018. Please note: there is limited onsite accommodation and this will be allocated on a first-come, first-served basis. Therefore, early registration is recommended.
If you wish to book onsite accommodation either side of the conference dates, please contact the Conference Centre directly.
Travel visas
Contact the conference organiser if you require a letter to support a travel visa application. Please note: letters will only be provided to confirmed registrants.
Non-European Economic Area or Swiss nationals may be required to have a visa to enter the UK.
Early application is strongly advised, as this process can take 6-8 weeks or longer.
Please visit the following websites for further information:
---
Accommodation services phishing scam – please be vigilant. More information.
Cost
A limited number of registration bursaries are available for PhD students to attend this conference (up to 50% of the standard registration fee) from Wellcome Genome Campus Scientific Conferences.
The following documents will need to be provided:
Abstract
CV
Covering letter
Letter from supervisor stating financial need
To apply, please contact the conference organiser.
Bursary deadline: 8 January 2019
Additional funding opportunities
Visit our support page for additional financial support currently available.
Abstracts
We welcome abstracts from all areas relevant to the main themes of the meeting, for both oral and poster presentations. Several oral presentations will be chosen from the abstracts submitted.
Abstracts will only be considered from registered delegates. Please use our online abstract submission system and follow the instructions given to ensure your abstract is submitted correctly. All abstracts must be submitted by the deadline. If you are intending to submit more than one abstract, please contact the conference organiser prior to registration.
The scientific programme committee will assess your abstract after the deadline has passed and you will be notified whether you have been selected for an oral or poster presentation.
Poster boards onsite will accommodate 118 cm high by 84 cm wide (A0- portrait) of printed material. Accepted abstracts will appear in the conference programme book and poster boards will be allocated at the conference.
Abstract deadline: 22 January 2019
Download abstract guidelines (79 KB)
Sponsors
With thanks to our sponsors:


If you are interested in supporting this meeting, please contact the conference organiser.
Keynote lecture video from 2017 meeting
Central nervous system mechanisms of chronic pain
Keynote lecture by Howard Fields (University of California, San Francisco, USA) at The Challenge of Chronic Pain  2017.
Back to top