Optimmunize: Improving the beneficial effects of vaccines
19–21 February 2020
Wellcome Genome Campus, UK
Ensuring immunity and improving overall health
Summary
This conference aims at improving understanding of interactions between vaccines and the immune system, with a focus on the non-specific and sex-differential effects of vaccines.
There is increasing evidence that vaccines, in addition to their disease-specific effects, have important off-target or non-specific effects. A number of major observations with significant implications for child survival have been identified, but the underlying immunological mechanisms remain largely elusive.
The conference will bring together epidemiologists, immunologists and clinicians, as well as research scientists with complementary expertise, and parallel disciplines. We will discuss and explore various aspects of the non-specific effects of vaccines, including their impact on neonates and infants, how generalisable and durable these effects are, the implications for geriatric and veterinary medicine, and why non-specific effects should differ between sexes and across the lifespan. The objective is to have an open and transparent discussion of the science, while focusing on how to further optimize the use of vaccines.
We would like to encourage networking and discussion and welcome particularly young researchers to engage with speakers and fellow delegates. We invite early career scientists to prepare one critical question relevant to the meetings' topics. Your questions can be submitted during the registration process. The organisers will select the most thought provoking questions which will be discussed in a panel session.
Conference poster
Download the poster for Optimmunize: Improving the beneficial effects of vaccines 2020 to share with your colleagues!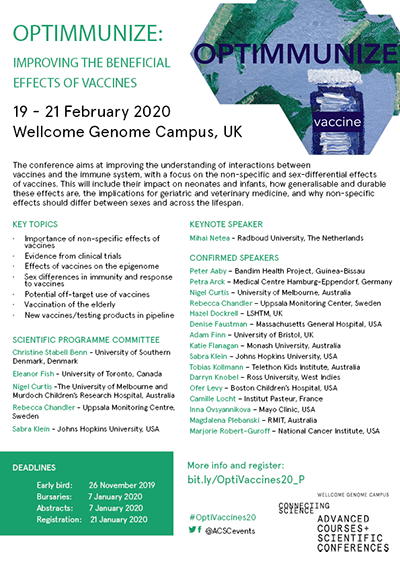 Programme
The conference will start at approximately 1 pm 19 February and close at approximately 2pm on 21 February 2020.
Topics will include
Importance of non-specific effects of vaccines
Evidence from clinical trials
Effects of vaccines on the epigenome
Sex differences in immunity and response to vaccines
Potential off-target use of vaccines
Vaccination of the elderly
New vaccines/testing products in pipeline
Organisers and speakers
Scientific programme committee
Keynote Speaker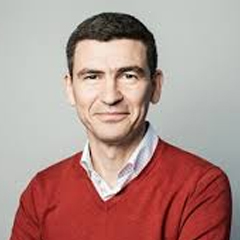 Mihai Netea
Radboud University, The Netherlands
Confirmed speakers
Peter Aaby – Bandim Health Project, Guinea-Bissau
Petra Arck – Medical Centre Hamburg-Eppendorf, Germany
Nigel Curtis – University of Melbourne, Australia
Rebecca Chandler – Uppsala Monitoring Center, Sweden
Hazel Dockrell – LSHTM, UK
Denise Faustman – Massachusetts General Hospital, USA
Adam Finn – University of Bristol, UK
Katie Flanagan – Monash University, Australia
Sabra Klein – Johns Hopkins University, USA
Darryn Knobel – Ross University School of Veterinary Medicine, West Indies
Tobias Kollmann – Telethon Kids Institute, Australia
Ofer Levy – Boston Children's Hospital, USA
Camille Locht – Institut Pasteur, France
Inna Ovsyannikova – Mayo Clinic, USA
Marjorie Robert-Guroff – National Cancer Institute, USA
Conference organiser
Nicole Schatlowski, Scientific Programme Officer
Jemma Hume, Conference & Events Organiser
How to apply
Early bird discount
(until 26 November)

Standard rate
(after 26 November)
Student
No accommodation
£269
£369
Student
On-site twin accommodation
£376
£476
Student
On-site single accommodation
£442
£542
Academic
No accommodation
£369
£469
Academic
On-site twin accommodation
£476
£576
Academic
On-site single accommodation
£542
£642
Commercial
No accommodation
£469
£569
Commercial
On-site twin accommodation
£576
£676
Commercial
On-site single accommodation
£642
£742
The registration fee includes entrance to the lectures and poster sessions, an abstract book, meals (lunch and dinner) and refreshments during the conference. Breakfast will be provided for delegates who have booked accommodation.
Accommodation
Accommodation is provided for the nights of 19 and 20 February 2020. Please note: there is limited onsite accommodation and this will be allocated on a first-come, first-served basis. Therefore, early registration is recommended.
If you wish to book onsite accommodation either side of the conference dates, please contact the Conference Centre directly.
Travel visas
Contact the conference organiser if you require a letter to support a travel visa application. Please note: letters will only be provided to confirmed registrants.
Non-European Economic Area or Swiss nationals may be required to have a visa to enter the UK.
Early application is strongly advised, as this process can take 6-8 weeks or longer.
Please visit the following websites for further information:
---
Accommodation services phishing scam – please be vigilant. More information.
Cost
A limited number of bursaries are available for early career scientists and medical trainees to attend this conference. These have been generously provided by Vaccines, the Wellcome Genome Campus Scientific Conferences programme and a private donor.
Registration bursaries (up to 50% of the standard registration fee), provided by Wellcome Genome Campus Scientific Conferences
Travel bursaries
Bursaries (up to £400), provided by
Bursaries (up to £600)
For all bursaries the following documents will need to be provided as part of the bursary application:
Abstract (to be submitted via the portal during the registration process)
CV
A justification letter (explain how you will benefit from attending the conference)
A supporting letter from supervisor
Estimation of travel costs (if applying for a travel bursary)
Please state in your application if you would like to apply for a registration or travel bursary or both. If you apply for a travel bursary you will need to arrange travel through our travel agent.
All bursaries will be awarded on merit and the amount will be determined by the conference organiser. To apply, please contact the conference organiser. You will be sent a unique registration link which will hold your place, without taking payment, until you have been notified of the outcome of your application.
If you have already registered for the conference you are still welcome to apply for a bursary, please contact the conference organiser.
Bursary deadline: 7 January 2020
Additional funding opportunities
Visit our support page for additional financial support currently available.
Abstracts
We welcome abstracts from all areas relevant to the main themes of the meeting, for both oral and poster presentations. Several oral presentations will be chosen from the abstracts submitted.
Abstracts will only be considered from registered delegates. Please use our online abstract submission system and follow the instructions given to ensure your abstract is submitted correctly. All abstracts must be submitted by the deadline. If you are intending to submit more than one abstract, please contact the conference organiser prior to registration.
The scientific programme committee will assess your abstract after the deadline has passed and you will be notified whether you have been selected for an oral or poster presentation.
Poster boards onsite will accommodate 118 cm high by 84 cm wide (A0- portrait) of printed material. Accepted abstracts will appear in the conference programme book and poster boards will be allocated at the conference.
Abstract deadline: 7 January 2020

Download abstract guidelines (78 KB)
Back to top