Animal Genetics and Diseases
8–10 May 2019
Wellcome Genome Campus, UK
Highlighting recent advances in animal genetics and genomic technologies
Summary
The second conference in this series will highlight recent advances in animal genetics and genomic technologies. It will bring together specialists working on the interface of genomics, genetic engineering and infectious disease with the aims of improving animal and human health and welfare.
Novel genomic technologies, mathematical modelling and quantitative genetics approaches, applied to host animals, as well as their pathogens, have transformed the understanding of animal diseases, host-pathogen interactions and epidemiology and their effects on productivity of farmed animal species and food supply chains.
This year's conference will not only put the spotlight on the immune response of host animals and epidemiology but also cover the genetics and genomics of pathogens and the impact of animal-human relationships.
We encourage registrations from researchers, breeders and technical specialists interested in learning and disseminating the latest cutting-edge techniques and methodologies across model species, wildlife, farmed animals and companion animals.
Feedback from the 2017 conference:
"A wonderful first meeting. Great interactions and excellent presentations"
"Very relevant talks, excellent facilities, good networking"
"Excellent range of subjects covered and standard of talks"
"A very interactive conference, great for networking. It also allowed excellent cross-talk between differences specialities"
Conference poster
Download the poster for Animal Genetics and Diseases to share with your colleagues!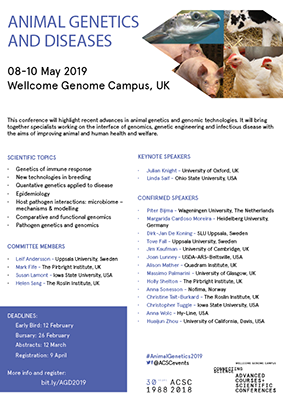 Programme
The conference will start at approximately 1pm on Wednesday 8 May and close at approximately 2pm on Friday 10 May 2019.
Scientific sessions:
Genetics of immune response
New technologies in breeding
Quantitative genetics applied to disease
Epidemiology
Host pathogen interactions: microbiome – mechanisms & modelling
Comparative and functional genomics
Pathogen genetics and genomics
The final programme is now available.
Organisers and speakers
Scientific programme committee
Keynote speakers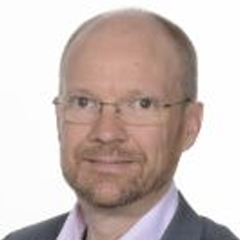 Julian Knight
University of Oxford, UK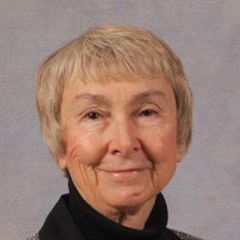 Linda Saif
Ohio State University, USA
Confirmed speakers
Scientific Conferences Team
Nicole Schatlowski, Scientific Programme Officer
Zoey Willard, Conference & Events Organiser
How to apply
Early bird discount
(until 12 February 2019)

Standard rate
(after 12 February 2019)
Student
No accommodation
  £265
£365
Student
On-site twin accommodation
  £371
£471
Student
On-site single accommodation
  £436
£536
Academic
No accommodation
  £365
£465
Academic
On-site twin accommodation
  £471
£571
Academic
On-site single accommodation
  £536
£636
Commercial
No accommodation
  £465
£565
Commercial
On-site twin accommodation
  £571
£671
Commercial
On-site single accommodation
  £636
£736
The registration fee includes entrance to the lectures and poster sessions, an abstract book, meals (lunch and dinner) and refreshments during the conference. Breakfast will be provided for delegates who have booked accommodation.
Accommodation
Accommodation is provided for the nights of 8 and 9 May. Please note: there is limited onsite accommodation and this will be allocated on a first-come, first-served basis. Therefore, early registration is recommended.
If you wish to book onsite accommodation either side of the conference dates, please contact the Conference Centre directly.
Travel visas
Contact the conference organiser if you require a letter to support a travel visa application. Please note: letters will only be provided to confirmed registrants.
Non-European Economic Area or Swiss nationals may be required to have a visa to enter the UK.
Early application is strongly advised, as this process can take 6-8 weeks or longer.
Please visit the following websites for further information:
---
Accommodation services phishing scam – please be vigilant. More information.
Cost
A limited number of registration bursaries are available for PhD students to attend this conference (up to 50% of the standard registration fee) from Wellcome Genome Campus Scientific Conferences.
To apply, please contact the conference organiser. You will be sent a unique registration link which will hold your place, without taking payment, until you have been notified of the outcome of your application.
The following documents will need to be provided as part of the bursary application:
Abstract (to be submitted via the portal during the registration process)
CV
A justification letter (explain how you will benefit from attending the conference)
A supporting letter from supervisor stating financial need
If you have already registered for the conference you are still welcome to apply for a bursary, please contact the conference organiser.
Bursary deadline: 26 February 2019
Additional funding opportunities
Visit our support page for additional financial support currently available.
Abstracts
We welcome abstracts from all areas relevant to the main themes of the meeting, for both oral and poster presentations. Several oral presentations will be chosen from the abstracts submitted.
Abstracts will only be considered from registered delegates. Please use our online abstract submission system and follow the instructions given to ensure your abstract is submitted correctly. All abstracts must be submitted by the deadline. If you are intending to submit more than one abstract, please contact the conference organiser prior to registration.
The scientific programme committee will assess your abstract after the deadline has passed and you will be notified whether you have been selected for an oral or poster presentation.
Poster boards onsite will accommodate 118 cm high by 84 cm wide (A0- portrait) of printed material. Accepted abstracts will appear in the conference programme book and poster boards will be allocated at the conference.
Abstract submission open for posters only. Submit by 09 April.

Download abstract guidelines (79 KB)
Keynote lecture video from 2017 meeting
Genetic variation of hominid immune systems
Keynote lecture by Peter Parham (Stanford University, USA) at Animal Genetics and Diseases 2017.
Back to top