The return of Your Digital Mentor Podcast 
Join us for season 2 and gain the knowledge to sharpen your professional skills
Following a successful first season covering topics around mentoring and other aspects of career development and research culture, Your Digital Mentor Podcast was ranked by Listen Score in the top 5% of most popular shows globally, out of over 2.5 million podcasts. Listeners from 93 different countries tuned into season 1!
The podcast returns for its second season on August 18th, this time, focusing on professional development skills such as: communication, leadership, and entrepreneurship. These skills are key for career progression, but are not adequately provided during scientific training. World leading experts will share their experiences and stories with our podcast listeners. The skills-focused episodes will become a timeless resource for professionals with ambitions to develop their skills and accelerate their career.
Presenting, and writing skills are essential in any scientific career and doing them well often requires help and practice. We hope our Season 2 skills lab episodes can give our listeners some useful tips.
Dr. Christine Boinett, Executive Producer, Your Digital Mentor Podcast 
The first season had a central focus on mentoring, outlining the roles of the mentor-mentee relationship, it also aimed to tackle issues that are often overlooked, including; 'imposter syndrome', 'burnout', and global health inequalities.
Season 2 of Your Digital Mentor Podcast will continue to approach these topics, but will address new areas around science leadership, writing and presentation, public engagement, and equity in genomics. It will touch on career options with an Academia vs Industry episode, and have a conversation about research culture issues  – with a dedicated episode on toxicity in academia.
Broadening Reach
A special pre-season Spanish episode is now available for download on Sound Cloud, please click here to listen.
Our language episodes allow for over half a billion people to get access to conversations around mentoring in their native languages.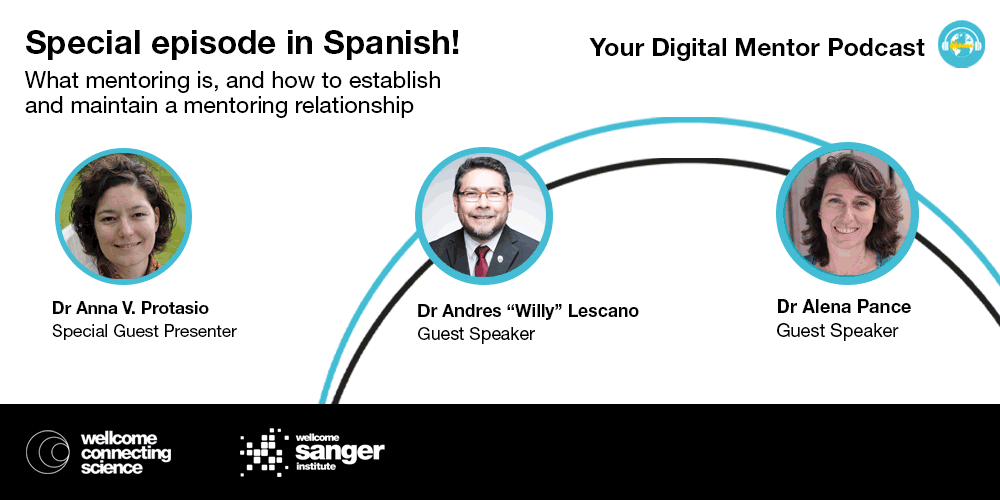 Having mentoring episodes in many different languages is a brilliant way to spread the importance and ideas more widely. Importantly, as the discussions are by native speakers with personal experience of countries where these languages are spoken, the focus is on the particular circumstances and habits of the different countries, which makes the mentoring concepts more tangible and achievable.
Dr. Alena Pance
The opening episode of season 2 will go live on the 18 August with author Jeffrey McDonnell telling us how to Get Skilled at Writing.
Subscribe to the podcast on your favourite podcast listening platform and follow Your Digital Mentor on twitter to keep updated with the podcast's latest news and releases.
Back to top