Strengthening bioinformatics skills across the world for SARS-CoV-2 genomic analysis 
Essential genomics training to prepare for the next global outbreak! 
The COVID-19 pandemic demonstrated the need for global capacity in genomic surveillance and analyses of viruses. Increasing expertise in these areas across the world strengthens our response to disease outbreaks; however, for this to happen there are many experts and scientists who need access to basic skills training in bioinformatics. 
The Wellcome Connecting Science Learning and Training team understands that the availability of this vital training is often limited and costly for scientists based in certain regions across the globe. 
Therefore, as part of our COG-Train programme, jointly led alongside the COVID-19 Genomics UK (COG-UK) consortium, we developed the SARS-CoV-2 Bioinformatics for Beginners course (SARS-CoV-2 B4B). This free online course was designed to reach scientists based across Africa, Asia, and Latin America; anticipating high demand, we developed a distributed classroom (DC) training platform, enabling us to reach as many scientists from different countries as possible. 
Working with a team of 12 viral genomics experts, we developed content covering: an introduction to the core concepts of bioinformatics; how to prepare sequencing data for analysis; how to identify viral variants; and how to share data with the world. The course content was delivered using multiple platforms, including Zoom for interactive sessions, a Learning Management System, Github repository, and YouTube.  We also piloted the use of the Google Colab platform, which runs the computation for bioinformatics exercises.  This blended delivery approach ensured that anyone could participate and learn, even without access to a powerful computer or strong internet connection. Hosted in 28 classrooms, interactive sessions were delivered via the Zoom platform twice a week, where participants engaged in practical hands-on activities and group discussions.
Using this blended learning DC delivery model, and through collaborative support from 28 local host classrooms, the course reached over 350 scientists based in 22 countries!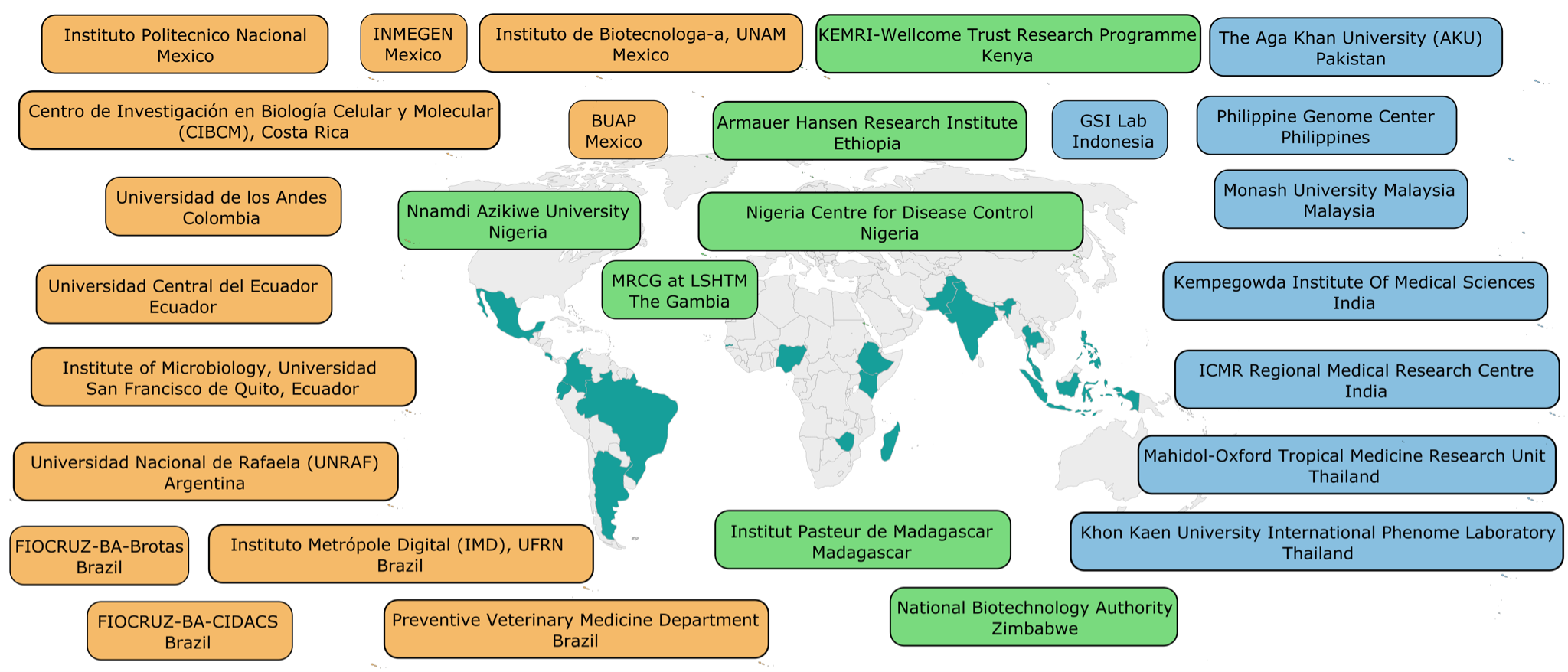 Our aim is for the participants to continue to share knowledge and train others in their own regional centres, so that globally we are better prepared for outbreaks to come!
Jorge Batista Da Rocha, Educator Developer, Connecting Science learning and training programme
It was a great experience to meet and connect participants from across the world, and create a network which encourages open access to teaching and learning.
We hope that others will make use of the materials to teach others in their local institutions.
Find out about our shareable materials below:
Everything is fully available to reuse and rework as necessary!  
We are particularly keen to see our course content translated into other languages to support capacity building efforts across the globe. 
Jorge Batista Da Rocha, Educator Developer, Connecting Science learning and training programme
Here's what our previous course participants had to say:
I loved the course. The instructors were helpful and supportive. The course modules were very well designed, and the assignments and quizzes after each module helped me to assess how well I was learning throughout. All the instructors were very kind and friendly.
Previous course participant 
Before the course I had a very basic understanding of bioinformatics. Now I have a more advanced and professional knowledge of bioinformatic tools applied for SARS-CoV2 diagnostics.
Previous course participant 
This is the first time I applied my theoretical knowledge into practice, hence it was difficult for me to process it in the beginning. But, thanks to the efforts of my instructors, and the guidance from the support videos, I was able to understand and successfully complete the course. 
Previous course participant 
Back to top