Scientific Evidence in Policy Making
Top Tips from our 2018 Science Policy course
Evidence is a vital part of policy-making. Scientists are increasingly encouraged to engage with the public, and for those whose work could have an impact on policy – from climate change to disease outbreak tracking to genome editing – that could be in the form of influencing laws and legislation. Getting involved in policy making is one way researchers can make a difference.
Last summer the Wellcome Genome Campus Advanced Courses and Scientific Conferences team organised a course for researchers interested in getting their research evidence used in parliament. The course also catered for researchers looking to move into policy making as a career. We take a look at some of the key considerations for researchers who want to get involved.
How to get evidence into policy
Policy makers are often desperate for evidence, and need it quickly. But it's not the only thing that shapes policy. Values, money, time, political context, competing claims and vote-winning capacity are all a factor in deciding priorities for politicians and civil servants.

Avenues
One of the hardest things for anyone unfamiliar with the inner workings of Whitehall can be understanding the routes in. There are many avenues where evidence can fit, and those vary depending on the context.
Via a consultation, when policy makers will becalling for evidence.
Through an intermediary. Scientists can contact policy teams at research organisations like funders, learned societies, universities, institutes and charities for advice on how to approach the right person or committee.
Via a local MP, or one who has an interest in your research area.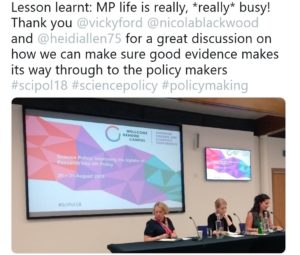 The policy team at the Sanger Institute is led by Dr Sarion Bowers, and works on data sharing, GDPR, animals in research, immigration and Brexit, bringing the Institute's voice to debates around the world on bioethics and the use of genomics and data in healthcare.
Formatting evidence
Evidence needs to be presented in a way that connects with policy makers. Policy makers will struggle to engage with the policy implications of research if it is buried in a scientific journal. Evidence needs to be presented in clear language, without jargon, picking out the keypoints to tell a story.
The exact format for evidence will depend on the context, though the general advice is to keep it short. The most effective arguments are made when there is a very clear point. Picking key examples, or case studies, is a good way to make your case. Everything needs to be underpinned by the evidence, but it needs to be digestible. Someone reading your work won't analyse it themselves – it is better to tell them what it means.
Nuance does have a role, but a balance should be struck in order present your position honestly without detailing every counter arguments with equal weighting front and centre. If you are using evidence to advocate for a specific action, you need your message to be clear.
Career Advice
For researchers who want to move into the policy sector as a career, Sarion advises getting as much experience as possible as a first step. That could be through an internship, for example.
I'd also advise people to start writing. Write blog posts. Begin to develop those skills of creating a narrative. Practice building anevidence base, without the evidence being too overwhelming. Reading thoroughly is also important. Find books, and stories of how legislation came into being.
Sarion Bowers, Wellcome Sanger Institute
There are Masters courses available, or you can join the next ACSC course at the Wellcome Genome Campus.
Making a difference
Getting involved really can make a difference. Scientists at the Wellcome Trust Centre for Mitochondrial Research and Newcastle University were an integral part of the UK becoming the first country in the world to allow mitochondrial donation. The technique gives families affected by mitochondrial disease the chance of having healthy children. The work of the Wellcome Trust policy team, together with others, led to the vote of support for mitochondrial donation in Parliament in February 2015. Read more on the Wellcome Trust site.
More and more researchers are becoming vocal about issues, not just in science, but also about issues that affect them and their teams, like immigration. Researchers really can make a difference.
About the Author
Alison Cranage is the Science Writer at the Wellcome Trust Sanger Institute You can follow her blog here.
Back to top