Mentorship is essential to everyone's career progression
By Christine Boinett, Alice Matimba, Isabela Malta, Emmanuela Oppong and Catherine Holmes from Your Digital Mentor Podcast.
Your Digital Mentor Podcast explores topics around mentoring and career development to reach listeners in low and middle income countries; specifically at those engaged in research and global health.
The podcast was developed by scientists based at the Wellcome Genome Campus in Cambridgeshire, UK; who saw the need for relaxed, but informative and frank conversations about the issues faced by scientists in the global south.
The Your Digital Podcast team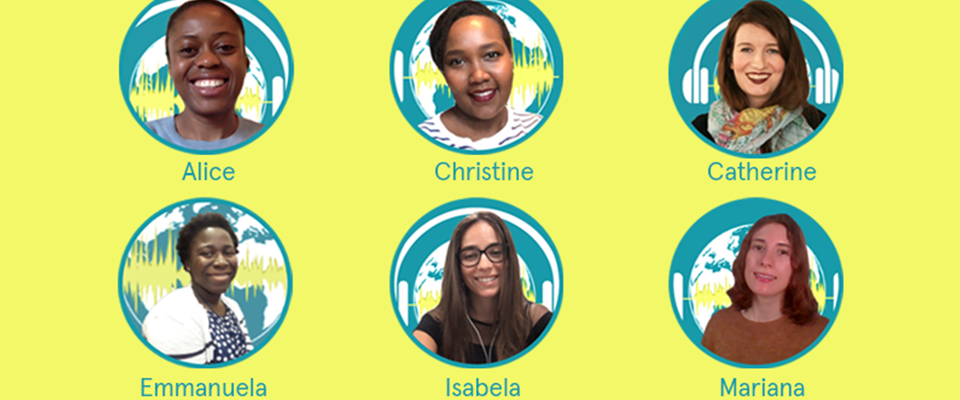 Season one of the podcast, which began in August 2020, featured some phenomenal guests from all over the globe. Now in its final episodes, the series has opened the doors to mentorship conversation and advice that would normally be closed and dependent on one-to-one interaction. The ultimate goal is to provide a more accessible, and more importantly, a FREE, source of mentorship without the constraints of time, geographic location, or a rigorous application process that is often required for organised mentorship programmes.
This season focused on topics around career development with a central focus on digital mentoring; tackling the challenges and wins from researchers and members of the global health community, who were willing to share their experiences on common issues faced by people in STEM careers across the globe.
The first three episodes on mentoring outlined the roles of the mentor-mentee relationship, and how to establish and maintain these relationships: the mentee is the driver of these relationships.
The motto of the podcast is to 'pay it forward'. This was echoed with advice from Andres (Willy) Lescano, that 'it's impossible to do research without mentorship'; emphasising the importance of mentorship to progress research and the calibre of science in the global south. These skills are not necessarily taught as part of a structured learning programme; however, this knowledge is crucial for the personal development of any scientist, and sharing this information can be aided by this innovative podcast.
In one of the final episodes, available from the 11th of November on 'simplicity in research', Fredros Okumu, Director of Science at Ifakara Health Institute in Tanzania said, it is about "experience and learning on the job", and stresses that adaptability is key.
Your Digital Mentor Podcast aims to tackle issues that are often overlooked and not incorporated into 'essential skills' curricula, including; 'imposter syndrome' and 'burnout', which affect many researchers regardless of gender or race. These pathologies can lead to anxiety, stress and lower productivity, with much more long lasting effects if not checked.
The bonus episode on Equity, Diversity and Inclusion drew from prevailing equity issues in academia and research. This two-part episode explored topics that tackled representation at the institutional level, and offered examples of effective approaches to increase upward mobility and actively challenge the infrastructure that maintains the status quo. Prof. Collet Dandara from the University of Cape Town, South Africa, hopes that one day people "can look at ideas and not look at the person".
Prof. Ijeoma Uchegbu, Pro-Vice Provost for Africa and The Middle East at University College London, challenged senior and influential members of organisations to take protégés under their wing to high level (closed) events, to enrich their networks and counteract the effects of affinity biases that certain groups may face. Exposure and normalisation of diversity in these spaces will inevitably 'level the playing field'. Greatness comes in many forms and senior scientists should want to progress these to the next generation of scientists.
A topic close to the all-woman podcast 'sensational six' team, was the 'Women leadership in STEM' episode, that encourages women not to be afraid of their own excellence, and not make themselves feel small or inadequate. The messages from both Prof. Dorothy Mbori-Ngecha and Prof. Shubha Tole, resonate with audiences globally, that women should not be limited " to one's job description". Your inspiration can come from the women around you, be it your mom, grandmother, and other 'super' women that have influenced your life.
The ultimate goal for the podcast is to provide a freely accessible and on-demand resource that can be shared. Your Digital Mentor Podcast is working to bring a global community together digitally. The team mission is for the podcast to be used as a resource that is shared widely across our global community, so please pay it forward.
If you find this article and the podcast episodes useful, please share with your colleagues. You can also connect with them on twitter @mentor_podcadst , or via e-mail at enquiries@yourdigimentor.net
You can stream the episodes for FREE and on demand NOW on Youtube, Soundcloud, Simplecast, Spotify, Apple podcasts, Stitcher and google podcasts.
Your Digital Mentor Podcast is supported by: Wellcome Genome Campus Advanced Courses and Scientific Conferences, The Sanger Institute, and the Social Entrepreneurship to Spur Health.
Back to top