Increasing global impact by tailoring training needs
Overseas Courses have long been a key part of the learning and training activities delivered by ACSC.
Started in 2006, and aimed primarily at biomedical research scientists and health professionals in low- and middle-income countries (LMICs), Overseas Courses initially focused on teaching how to analyse human and pathogen genomes using computational methods. Over time, they developed laboratory and informatics-based courses applying techniques in molecular biology, clinical microbiology, genomic surveillance, and sequence data analysis, for use in research and clinical diagnostics.
Scientific advances and new genomic technologies have created immense opportunities for increasing our understanding of health and disease. Yet many countries across Africa, Asia and South America, lack capacity thereby creating a barrier in the research community to the uptake of these advanced tools and resources. Overseas Courses seek to bridge this gap by developing and organising courses tailored to regional interests and needs.
There are massive gaps in capacity for genomic science research and education in most LMICs in Africa, Asia, and Latin America and the Caribbean. By understanding the barriers faced by scientists in accessing funding and expert mentorship, the Overseas Courses play an important role in tackling some of these challenges.
Alice Matimba, ACSC
Step one: Fully understand the needs of varying regions
The ACSC team have adopted a number of approaches to achieve this, from conducting surveys targeting individuals in subject-specific regional societies or research groups, to working with leading regional scientists to help identify local needs. The team are also setting up an expert panel to consult regularly on advances in technology, and opportunities for capacity development across genomics, health research, and public health interventions. Dr Alice Matimba, who joined ACSC as its first Overseas Courses Development Officer in 2017, is building upon these well-established efforts to develop a pipeline to expand the activities, geographical reach, diversity and impact of Overseas Courses.
Step two: Identify the training to match the need
Having laid this groundwork to develop a strong evidence base for the areas of greatest demand, it is easier to assess and decide on the training courses and other actions which may address them. Once a course topic has been identified, a team of prospective instructors submit a proposal to the ACSC Steering Committee outlining not only the course's activities, but also how it will incorporate regional collaboration and sustainability, and its potential impact. But identifying strategic need is only part of the equation. The practical considerations of how a course will be delivered and made accessible to regional participants is just as important.
Step three: All hands on deck!
The ACSC team facilitate instructor meetings and the development of training materials, as well as locating suitable venues with appropriate facilities and local academic and administration support. Key to the success of Overseas Courses is the commitment from renowned scientists and health professionals who are prepared to give up their valuable time to share their expertise with talented up-coming scientists in these regions. The instructor teams largely consist of collaborative teams of experts, from the UK and the targeted regions, who ensure contextual details are incorporated in teaching materials. In 2017 this approach led to the development of new courses in Viral Genomics and Antimicrobial Resistance, which will take place later this year in Vietnam and Kenya, respectively. The courses will also subsequently rotate across Asia, Africa, and South America, broadening their international reach.
To ensure that financial barriers do not prevent the most suitable applicants from attending, Overseas Courses are free to attend and participants are also supported by travel and accommodation bursaries.
The bursary supported my fees, accommodation in full. I could not have participated in the course without this kind of support.
Participant – Malaria Experimental Genetics, Ghana 2017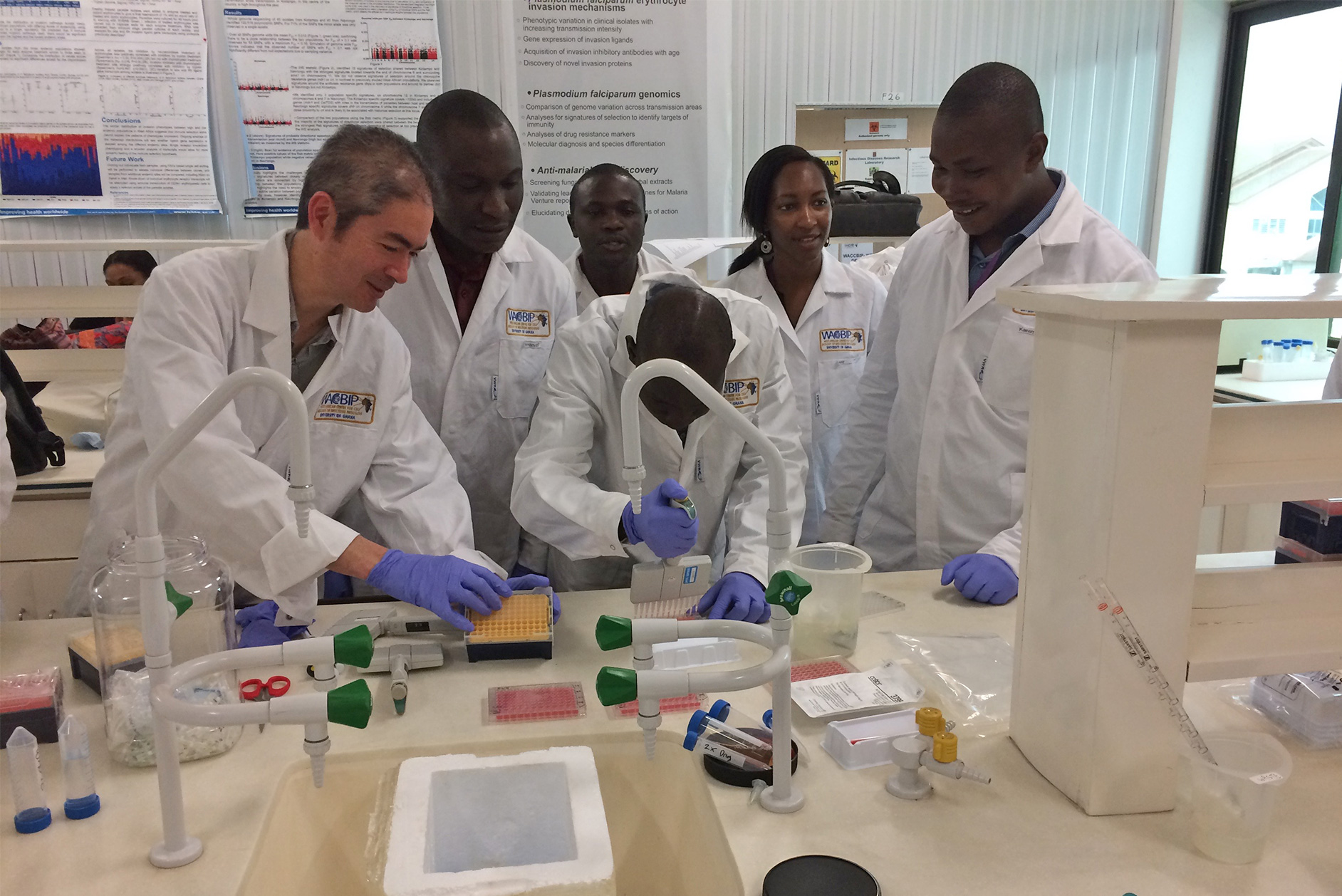 Post-course feedback from participants clearly indicates the high level of satisfaction for Overseas Courses with over 80% feeling "Very satisfied". Participants also provide useful information about their needs and expectations which guides continuous improvement of course organisation and delivery.
Step four: Widening impact and skills
Introducing more courses
Having identified gaps and taking into account recommendations from various research leaders, the ACSC team and selected partners are also developing regionally-tailored courses for a variety of human genomics topics, drug discovery and microbiome-host interactions. They plan to increase the number of Overseas Courses delivered annually to eleven per year by 2020.
Seed funding projects
In 2017 ACSC launched a pilot for the integration of research projects into courses, providing an opportunity for participants to apply the knowledge and skills obtained from the week-long course to a real-life scenario. Participants from Genomics and Epidemiological Surveillance of Bacterial Pathogens were awarded small grants to study genomic diversity and antimicrobial resistance in Salmonella enterica and Klebsiella pneumoniae by applying epidemiological methods and whole genome sequencing techniques. By collaborating, participants gained experience in networking and implementing projects of public health relevance as a team, at a regional level and with global impact.
The best part about the course was the funding to do a research project with the other participants. It is an excellent opportunity for networking and for applying what we learned on the course.
Participant – Genomics and Epidemiological Surveillance of Bacterial Pathogens, Costa Rica, 2017
Learning and sharing
Another valuable addition is the Train the Trainer element, developed and piloted by Dr Pamela Black, ACSC's Education Lead. This provides participants with pedagogical skills to enhance their approach to learning and teach others when they return to their home institutions.
The train the trainer workshops were very helpful and gave us time to reflect on our aims for the week and developing skills for the future
Participant – Working with Pathogen Genomes, Vietnam, 2017
Maximising the impact and reach of the training they deliver in low- and middle-income countries is a key priority for the ACSC team, so their approach to evaluating and catering for regional needs is constantly under review. It is encouraging that these methods are backed up by long term participant feedback, which consistently confirms that this training benefits not just those attending but their extended communities too.
The course helped me to widen my scope, and to get in touch with training which was otherwise almost impossible to access. This has allowed me to write new proposals that benefit my institution directly
Participant – Working with Parasite Databases, Uruguay, 2016
Back to top