Expanding pathogen genomics expertise across the UK
A new train-the-trainer course for clinical, public health and research scientists
In October, the Wellcome Connecting Science (WCS) Learning and Training team and the Centre for Genomic Pathogen Surveillance, Big Data Institute, University of Oxford, collaborated on the first of three capacity building courses, designed to strengthen the network of skilled pathogen genomics trainers across the UK.
'How to design and deliver pathogen genomics training for health and research professionals' kicked off this series of in-person T3Connect workshops, funded by UK Research and Innovation (UKRI).
Hosted by WCS at the Hinxton Hall Conference Centre, on the Wellcome Genome Campus, this interactive training opportunity fostered knowledge exchange and networking in purpose-built learning spaces, against the backdrop of research excellence that is present across the Campus.
Why is capacity building training in the UK necessary?
Propelled by the recognised importance of infectious diseases monitoring and management for public health, changes in research and practice also demand an increase in specific skills from the workforce.
To keep pace with this change, it is necessary for leading scientists working across microbiological disciplines to share their expertise and skills with their peers, to strengthen teams, build capacity, and develop active networks, collectively advancing the implementation of genomic surveillance.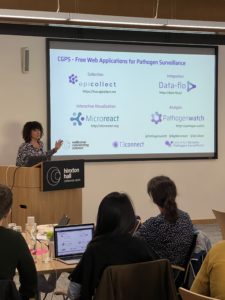 Addressing need through innovative train-the-trainer approaches
This unique training collaboration saw an assembly of scientists working across clinical practice, public health, and research come together to gain an understanding of the principles of education design and delivery, and learn "best practice" methods for building successful training programmes. Focused on the dissemination of knowledge and skills in genomic pathogen surveillance, this course was led by experts in the field, as well as specialists in pedagogical approaches. This combination of expertise and experience uniquely integrated training and communications aspects with genomics and pathogen data science, building a course framework around the surveillance workflow and outbreak investigation.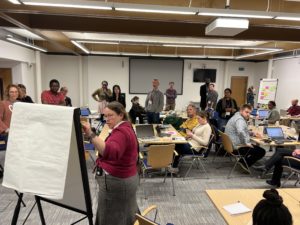 Course modules specifically covered examples on how to design and deliver training activities to strengthen skills in next generation sequencing (NGS) and whole genome sequencing pipelines (including: sample collection, quality control, analysis and interpretation), and public health decision-making and communication.
Hands-on learning sessions were complemented by two guest seminars, one on preparing the future healthcare workforce in genomics (delivered by Dr Michelle Bishop, Associate Director, Learning and Training, Wellcome Connecting Science and the second, on the ethical challenges associated with pathogen and host genetics in infectious disease (delivered by Dr Richard Milne, Head of Research and Dialogue, Wellcome Connecting Science); each providing context about the changing landscape within genetic healthcare.
Both Michelle and Richard gave extremely useful talks which linked the theory to practical aspects to consider when planning my training and when conducting my own research. Some of the key aspects were regarding the importance of profiling our trainees and adjusting the training to their needs to increase the impact and success of the intervention.
Course participant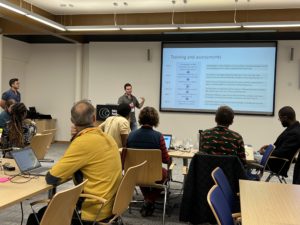 Over four days, participants gained the confidence to apply the concepts of course design and delivery acquired on this course to their own areas of interest.
The final day offered them an opportunity to present their own personal work, and receive feedback from peers and instructors.
The course has given me confidence to design, organise and conduct a training session, in the knowledge that I will be doing this to a high standard, using evidence based methods. It also gave excellent opportunities to meet and engage with others working in similar areas.
Course participant 
Developing sustainable networks
A core aim of this training initiative is to build sustainable training networks beyond the boundaries of the course and individual cohorts; building capacity in pathogen genomics-based surveillance across the UK and Ireland.
This was encouraged through dedicated networking sessions, as well as the development of a learning management system, designed to facilitate the continuation of interactions and communication after the course ended.
There was so much effort put into engaging us and making us active learners. I am usually a reluctant active learner but I actually enjoyed the active learning components of this course. I like that all of the activities were relatively short so it was easier to stay engaged.
Course participant 
Discover more about the T3 Connect training series in the video below: 
In addition to networking, alumni will also have access to the training materials developed for, and during, the course for use and implementation within their own training programmes.
The impact so far
Here's what some of our other participants and instructors took from their experiences of the course:
I came to this course with zero teaching experience, but after four days of training, I could already design a workable course, which is really exciting!
Course participant 
It has been a very rewarding experience interacting with fellow instructors and trainees. It got me back to my high school teaching days where I had to think of innovative ways to facilitate learning.
Course instructor 
The most immediate outcome will be an actual training activity with one of the other course participants (who I didn't know prior to this course) that we plan to deliver in Ireland. I will also apply the principles and methods learned here in future teaching and training work.
Course participant 
What next?
The next two courses in the series will be delivered next year, in 2023. To find out more about when applications open, sign-up here to receive regular Wellcome Connecting Science email updates.
Back to top