A transformative journey in global training online in a post-pandemic world 
COG-Train: supporting researchers and healthcare professional develop skills in pathogen genomics and bioinformatics 
COG-Train is a unique partnership between Wellcome Connecting Science and COG-UK, with a remit to facilitate an increase in global genome sequencing and analysis capacity, reduce sequencing inequality, and enhance pathogen surveillance. In response to the pandemic, we aimed to engage a global scientific audience, to develop capacity and improve our preparedness for future infectious disease outbreaks. More than 13,000 learners from over 137 countries have enrolled in the online programme of courses, and more importantly, we engaged a community of global scientists, with specific regional expertise, to provide a rich and diverse learning experience for everyone.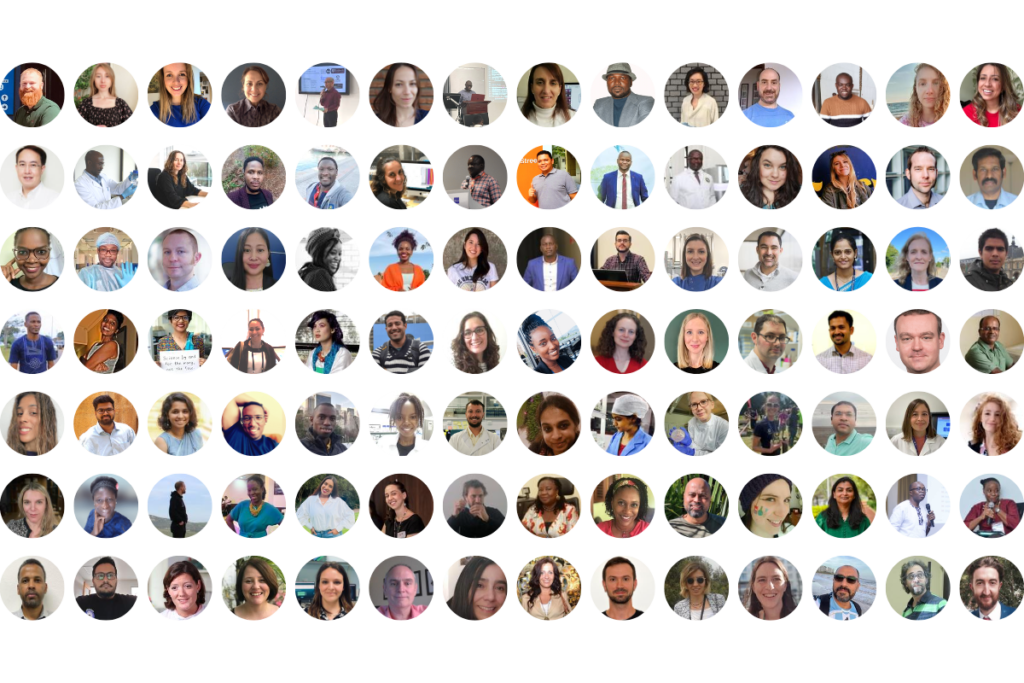 We started with a team of 19 collaborators for the first course (The power of genomics to understand the COVID-19 pandemic) and grew to 44 collaborators by the final course. Moreover, in the first course, our collaborators were based in nine countries, and the final course showcased the expertise of researchers from 21 countries, mostly based in underserved Africa, Asian, and Latin American countries. Working with this diverse, global community fostered a 1:1 gender balance across the programme – out of 121 collaborators, 53% were women. Our bioinformatics course Making Sense of Genomic Data: COVID-19 Web-based Bioinformatics, a topic historically male-dominated, was led by one man and four women.


I Really enjoyed this course!. The information was well-detailed and the tutors did a splendid job of explaining it. Some of the concepts were new but I managed to grasp the concepts.
Feedback from Making Sense of Genomic Data: COVID-19 Web-based Bioinformatics
The course was absolutely a thrill and replete with genomic information such as the genomic sequencing in vogue and popular bioinformatics tools.
Feedback from A Practical Guide for SARS-CoV-2 Whole-genome Sequencing 
We recently delivered the last Massive Open Online course (MOOC) in the COG-Train programme. Pathogen genomics: a new era in global health surveillance and strategy reached over 1,600 learners from more than 120 countries around the world, building on the success of the previous courses launched in 2022. This final iteration illustrates the evolution of how we developed courses for a global cohort of learners.
As we emerge from the recent pandemic, this final MOOC in the programme was designed to meet the current needs of the pathogen genomics community, beyond SARS-CoV-2. Focusing on further changes in global health, driven by public health emergencies, such as legionellosis in Argentina, and cholera in Yemen. This course focused on how genomics can help contain infectious diseases, prevent future global health threats, and better protect human populations. 
To broaden the reach and impact of this online programme, we are transferring the material to a permanent resource on GitHub. These resources will be available to anyone who wishes to transfer the lessons learned from COVID-19 (and beyond) to their own work and research.  Therefore the legacy of this project will not diminish with the pandemic under control, it will continue to evolve , as the training resources can be used to impact genome sequencing and analysis capacity.
I'm very proud of the courses we delivered and could not be happier for taking part in this project.
Liã Bárbara Arruda, Education Developer, Lead for COG-Train MOOCs  
Back to top