Working with Protozoan Parasite Database Resources - Africa (Virtual)
24–28 October 2022
Virtual (for Africa-based scientists)
Learn how to use online resources for genomic-scale data analysis of protozoan parasites.
Summary
This course aims to provide Africa-based biomedical researchers and scientists working on protozoan parasites with hands-on experience in genomic-scale data analysis; including genome browsers and comparison tools, primary data analysis, methods for data integration and resources for sophisticated data mining (including the VEuPathDB search strategy system).
Examples and exercises will be drawn primarily from the VEuPathDB.org resources focusing on protozoan parasites including Apicomplexa (i.e. Plasmodium, Toxoplasma & Cryptosporidium) and Kinetoplastida (ie. Trypanosoma & Leishmania). Applicants working on any organism included in these resources will benefit.
The intensive programme will combine hands-on exercises with lectures and discussions on genomics and bioinformatics techniques, along with seminars from distinguished regional guest speakers.
The course is free to attend and open to research scientists and clinicians/clinical scientists/healthcare professionals based in Africa working with protozoan parasitic organisms. Prior coding or bioinformatics knowledge is not required.
This is a virtual course, breakout rooms will be heavily used to ensure adequate teacher/student ratio and to foster active discussion. Lectures will be recorded and made available to students.
Target audience
The course is open to scientists or healthcare professionals based in Africa working with protozoan parasitic organisms.
Programme
The programme will include lectures, discussions and practical computational sessions covering the following topics:
Visualisation of sequence features and next generation sequencing data using the Artemis genome browser and annotation tool

Genome browsing and comparative genomics (ACT and J

/G

Browse)

Formulating complex biological queries using the VEuPathDB search strategy system

Web-based resources including the

GeneDB.org and

VEuPathDB.org and GalaxyIntegrating functional genomics data (RNA-seq, ChIP-seq, ChIP-chip, microarrays, proteomics, etc) with genome sequence data

Theoretical aspects of genome re-sequencing

Querying genetic diversity on a genome-wide scale

Metabolic pathways and pathway and GO enrichment analysis

Working with next-generation sequence data (mapping, variant calling, RNA-Seq etc) using both command-line and web-based (Galaxy) methods

Introduction to community curation tools

Participants are encouraged to bring their own data, to use in consultation and/or in-workshop analysis
Learning Outcomes
After attending this course, participants should be able to:
Use state-of-the-art bioinformatics software including web-based resources as well as in a UNIX-like environment to explore parasite datasets.

Identify opportunities and limitations of the different methodologies in analysing parasite genomics data

Apply software and web-based resources to visualise and analyse next generation sequencing datasets for parasitology research.

Apply software and web-based services to browse genomes and to display genome comparisons.

Integrate and query large-scale genomic and functional genomic databases to answer biology-related research questions and develop testable hypotheses
Prerequisites
Applicants should be Africa-based scientists or healthcare professionals working with protozoan parasitic organisms.
Instructors and speakers
Instructors and Speakers
Speaker: Using Single Sequencing to Understand Malaria Immunit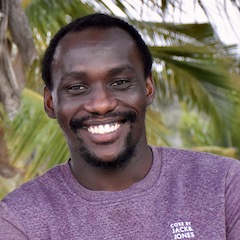 Rowland Osii
University of Glasgow, UK
Organisers - Wellcome Connecting Science
Alice Matimba – Head of Courses & Global Training
Isabela Malta – Global Training Assistant Manager
Martin Aslett – Information Technology Manager
Nicola Stevens – Courses & Events Organiser
How to apply
Target audience
The course is open to scientists or healthcare professionals based in Africa working with protozoan parasitic organisms
How to Apply
Please click the Apply button above to begin the online application process. Places are limited and will be awarded on merit. If you have any problems with the online application process, please contact us.
Please note: Applications must be supported by a recommendation from a scientific or clinical sponsor (e.g. supervisor, line manager or head of department). A request for a supporting statement will be sent to your nominated sponsor automatically during the application process. Applicants must ensure that their sponsor provides this supporting statement by the application deadline. Applications without a supporting statement cannot be considered.
Cost
The course is subsidised by Wellcome Connecting Science Courses and Conferences and free of charge. Please contact us for the commercial fee.
Back to top