Proteomics in Cell Biology and Disease Mechanisms (virtual meeting)
30 March–1 April 2020
Wellcome Genome Campus, UK
Highlighting technical advances and biological applications in proteomics
Summary
Due to the evolving situation with COVID-19, this conference will take place as a virtual meeting – details will be sent to all attendees.
In association with EMBL, we are pleased to announce that the 4th Proteomics in Cell Biology and Disease Mechanisms conference will be held at the Wellcome Genome Campus, UK.
Recent technological and computational advances in high-throughput methods and multi-omics big data integration have propelled the field of proteomics forward, enabling countless applications in biology and medicine. This year, the programme will be particularly focussed on computational aspects of proteomics, including databases and artificial intelligence approaches in proteomics and health care. The conference will also highlight the latest developments in spatial and structural proteomics, protein-protein interactions and post-translational modifications, and their applications in medicine.
This is a cross-disciplinary meeting that will bring together proteomics technology experts from academia and industry, life science specialists, and medicine communities who are interested in systems biology, cell signalling, structural biology, and disease and clinical proteomics.
This is a joint symposium with EMBL and will alternate yearly between Heidelberg/Germany and Wellcome Genome Campus/UK.
Conference poster
Download the poster for Proteomics in Cell Biology and Disease Mechanisms 2020 to share with your colleagues!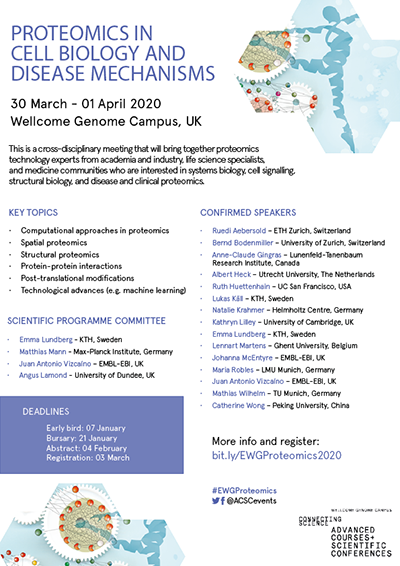 Programme
The conference will start at approximately 12.30 on Monday, 30 March, and close at approximately 14.00 on Wednesday, 1 April 2020.
Topics will include:
Computational approaches in proteomics
Spatial proteomics
Structural proteomics
Protein-protein interactions
Post-translational modifications
Technological advances (e.g. machine learning)
Organisers and speakers
Scientific programme committee
Confirmed speakers
Ruedi Aebersold – ETH Zurich, Switzerland
Bernd Bodenmiller – University of Zurich, Switzerland
Anne-Claude Gingras – Lunenfeld-Tanenbaum Research Institute, Canada
Albert Heck – Utrecht University, The Netherlands
Ruth Huettenhain – University of California, San Francisco, USA
Lukas Käll – KTH, Sweden
Natalie Krahmer – Helmholtz Centre, Germany
Kathryn Lilley – University of Cambridge, UK
Emma Lundberg – KTH, Sweden
Lennart Martens – Ghent University, Belgium
Johanna McEntyre – EMBL-EBI, UK
Maria Robles – LMU Munich, Germany
Richard Scheltema – Utrecht University, The Netherlands
Juan Antonio Vizcaíno – EMBL-EBI, UK
Mathias Wilhelm – TU Munich, Germany
Catherine Wong – Peking University, China
Conference organiser
Nicole Schatlowski, Scientific Programme Officer
Lucy Criddle, Conference and Event Organiser
How to apply
Early bird discount
(until 7 January)

Standard rate
(after 7 January)
Student
No accommodation
£273
£373
Student
On-site twin accommodation
£379
£479
Student
On-site single accommodation
£444
£544
Academic
No accommodation
£373
£473
Academic
On-site twin accommodation
£479
£579
Academic
On-site single accommodation
£544
£644
Commercial
No accommodation
£473
£573
Commercial
On-site twin accommodation
£579
£679
Commercial
On-site single accommodation
£644
£744
The registration fee includes entrance to the lectures and poster sessions, an abstract book, meals (lunch and dinner) and refreshments during the conference. Breakfast will be provided for delegates who have booked accommodation.
Accommodation
Accommodation is provided for the nights of 30 March and 31 March 2020. Please note: there is limited onsite accommodation and this will be allocated on a first-come, first-served basis. Therefore, early registration is recommended.
If you wish to book onsite accommodation either side of the conference dates, please contact the Conference Centre directly.
Travel visas
Contact the conference organiser if you require a letter to support a travel visa application. Please note: letters will only be provided to confirmed registrants.
Non-European Economic Area or Swiss nationals may be required to have a visa to enter the UK.
Early application is strongly advised, as this process can take 6-8 weeks or longer.
Please visit the following websites for further information:
---
Accommodation services phishing scam – please be vigilant. More information.
Cost
A limited number of registration bursaries are available for PhD students to attend this conference (up to 50% of the standard registration fee) from Wellcome Genome Campus Scientific Conferences.
To apply, please contact the conference organiser. You will be sent a unique registration link which will hold your place, without taking payment, until you have been notified of the outcome of your application.
The following documents will need to be provided as part of the bursary application:
Abstract (to be submitted via the portal during the registration process)
CV
A justification letter (explain how you will benefit from attending the conference)
A supporting letter from supervisor stating financial need
If you have already registered for the conference you are still welcome to apply for a bursary, please contact the conference organiser.
Bursary deadline: 21 January 2020
Additional funding opportunities
Visit our support page for additional financial support currently available.
Abstracts
We welcome abstracts from all areas relevant to the main themes of the meeting, for both oral and poster presentations. Several oral presentations will be chosen from the abstracts submitted.
Abstracts will only be considered from registered delegates. Please use our online abstract submission system and follow the instructions given to ensure your abstract is submitted correctly. All abstracts must be submitted by the deadline. If you are intending to submit more than one abstract, please contact the conference organiser prior to registration.
The scientific programme committee will assess your abstract after the deadline has passed and you will be notified whether you have been selected for an oral or poster presentation.
Poster boards onsite will accommodate 118 cm high by 84 cm wide (A0- portrait) of printed material. Accepted abstracts will appear in the conference programme book and poster boards will be allocated at the conference.
Abstract deadline: 4 February 2020

Download abstract guidelines (78 KB)
Keynote lecture video from 2018 meeting
Dissecting the spatiotemporal subcellular distribution of the human proteome
Keynote lecture Emma Lundberg (Royal Institute of Technology, Sweden) at Proteomics in Cell Biology and Disease Mechanisms 2018.
Back to top