Plant Genomes in a Changing Environment (Virtual Conference)
18–20 October 2021
Virtual from Wellcome Genome Campus, UK
Summary
The meeting will bring together plant scientists working on a variety of crop and wild species in their natural environment, as well as the model plant Arabidopsis thaliana. It will provide a forum to discuss recent advances in plant genome biology aiming at the elucidation of gene function and networks, natural and induced variation and their implications in agricultural breeding programmes.
The increasing availability and improved quality of genomic data for crop species as well as natural populations is gradually enabling plant scientists to tackle some of the most critical global challenges such as environmental change and food security.
This conference will showcase the application of genomic techniques and emerging technologies to understand genomes and how they vary across changing environments. It will provide a platform for the transfer of knowledge of diverse plant systems that differ in their ecology, physiology, genomic complexity and the tools that are available for research and aims to connect researchers from academia and industry.
This year's meeting will focus on the genomics of polyploidy and evolutionary genomics, and will discuss how to improve plants for tolerance of biotic and abiotic stresses.
Programme
The conference will run from Monday 18 October until Wednesday 20 October 2021.  Sessions will start at 13:00 BST and finish at approximately 18:00 BST each day.  See the time where you are here.
Topics will include:

Genomics of Polyploidy
Abiotic Adaptation
Biotic Interaction
Plant Evolutionary Genomics
Emerging Technology
Organisers and speakers
Scientific programme committee
Keynote speakers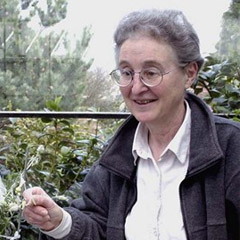 Deborah Charlesworth
University of Edinburgh, UK
Zachary Lippman
Cold Spring Harbor Laboratory, USA
Confirmed speakers
Siobhan Brady – University of California, Davis, USA
Eunyoung Chae – National University of Singapore, Singapore
Patricia Lang – Stanford University, USA
Polina Novikova – Max Planck Institute for Breeding Research, Germany
Ruben Rellan-Alvarez – NC State University, USA
Matthew Reynolds – CIMMYT, Mexico
Loren Rieseberg –  University of British Columbia, Canada
Eva Stukenbrock – University of Kiel, Germany
Andrea Sweigart – University of Georgia, USA
Amos Tanay – Weizmann Institute, Israel
Mario Vallejo-Marin – University of Stirling, UK
Dan Voytas – University of Minnesota, USA
Conference organiser
Lucy Criddle, Conference & Events Organiser
Jane Murphy, Scientific Programme Officer
Registration and bursaries
Registration deadline: 11 October 2021
Bursary deadline: 7 September 2021
| | |
| --- | --- |
| | Registration rate |
| Student | £50 |
| Delegates from LMICs* | £50 |
| Academic | £100 |
| Commercial | £150 |
Registration includes:
access to the virtual event portal (Log in details will be emailed a few days before the event starts)
live-stream sessions, including posters and online networking channels
recordings of the live-stream sessions, available 'on-demand' for four weeks after the event ends.
*To increase the international diversity of attendees at our meetings, we have reduced fees for delegates from Lower and Middle Income Countries (see list of countries here).
If you are in need of financial support and would like to apply for a bursary, please follow the instructions below.
Bursaries
A limited number of bursaries are available to cover up to 100% of the registration fee.
To apply, please complete your event registration and bursary application via this unique link before the bursary deadline. For your application to be considered and your place reserved, you must also submit the following supporting documents:
letter stating financial need and explaining how you will benefit from attending the event
brief CV.
We will be contact with the result of your application shortly after the bursary deadline.
If you have any questions, please contact the conference organiser.
Abstracts
We welcome abstracts from all areas relevant to the main themes of the meeting, for both oral and poster presentations. Several oral presentations will be chosen from the abstracts submitted.
Abstracts will only be considered from registered delegates. Please use our online abstract submission system and follow the instructions given to ensure your abstract is submitted correctly. All abstracts must be submitted by the deadline. If you are intending to submit more than one abstract, please contact the conference organiser prior to registration.
The scientific programme committee will assess your abstract after the deadline has passed and you will be notified whether you have been selected for an oral or poster presentation.
Poster boards onsite will accommodate 118 cm high by 84 cm wide (A0- portrait) of printed material. Accepted abstracts will appear in the conference programme book and poster boards will be allocated at the conference.
Abstract deadline: 7 September 2021

How to upload an abstract once you have already completed registration:
Log back into your registration account using either Firefox or Internet Explorer as your browser, via link above the 'Share' button on the right hand column of this page
Click on 'Account' (top right).
Then click on 'View account history'. This will show a table of your event registrations.
In the right-hand column you will see the option to 'Upload file' – click on this and select to upload an abstract.
Download abstract guidelines (328 KB)
Sponsors
If you are interested in supporting this meeting, please contact the conference organiser.
Download our Sponsorship Opportunities brochure (352 KB)
Keynote lecture video from 2020 meeting
At the root of cellular responses to water extremes in rice
Keynote lecture by Julia Bailey-Serres (University of California, Riverside, USA) at Plant Genomes in a Changing Environment 2020
Back to top