Plant Genomes in a Changing Environment
16–18 October 2019
Wellcome Genome Campus, UK
Abstract submission open for posters only
Summary
The meeting will bring together plant scientists to discuss recent advances in the elucidation of gene function and networks. Topics will include analysis of natural and induced variation and their implications in crop genetic improvement.
The increasing availability and improved quality of genomic data for diverse plant species and associated natural populations has enabled scientists to advance genetic strategies to address one of the most critical global challenges of our time: how to feed the growing population without further destroying the environment in the face of a rapidly changing climate.
This conference will not only showcase advances in the applications of genomic techniques to agriculture but will also highlight their diverse ecology, physiology, genomic complexity and will connect researchers in academia, industry and other disciplines.
This year's meeting will focus on strategies on how to improve plants for tolerance of biotic and abiotic stresses. It will also cover biological networks controlling nutrient use, acquisition and expression.
A workshop on bioinformatics resources in plant science will be held pre-conference on 16 October.
* Image credit: Jason Wallace
Programme
The conference will start at approximately 1pm on Wednesday 16 October and close at approximately 2pm on Friday 18 October 2019.
Topics will include:
Pre-conference workshop on Bioinformatics resources in plant science
Improving plants for tolerance of abiotic stress
Improving plants for tolerance of biotic stress
Biological networks controlling nutrient use, acquisition and expression
Other Strategies for sustaining yield in a changing environment
New Technologies in genome research
Organisers and speakers
Scientific programme committee
Keynote speakers
Gloria Coruzzi
New York University, USA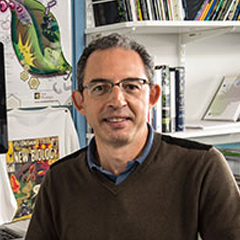 Sophien Kamoun
The Sainsbury Laboratory, UK
Venkatesan Sundaresan
UC Davis, USA
Confirmed speakers
Malcolm Bennett – University of Nottingham, UK
Xuwei Chen – Sichuan University, China
Daphne Ezer – The Alan Turing Institute, UK
Stefania Giacomello – SciLifeLab, Sweden
Julie Gray – University of Sheffield, UK
Kim Hammond-Kosack – Rothamsted Research, UK
Tom Juenger – University of Austin, USA
Talia Karasov – Max Planck Institute for Developmental Biology, Germany
Raphael Mercier – Max Planck Institute for Plant Breeding Research, Germany
Jane Parker – Max Planck Institute for Plant Breeding Research, Germany
Christina Richards – University of South Florida, USA
Fabrice Roux – INRA, France
Maud Tenaillon – INRA-Le Moulon, France
Bart Thomma – Wageningen University, The Netherlands
Conference organiser
Nicole Schatlowski, Scientific Programme Officer
Lucy Criddle, Conference and Event Organiser
How to apply
Early bird discount
(until 25 June)

Standard rate
(after 25 June)
Student
No accommodation
£243
£343
Student
On-site twin accommodation
£349
£449
Student
On-site single accommodation
£414
£514
Academic
No accommodation
£343
£443
Academic
On-site twin accommodation
£449
£549
Academic
On-site single accommodation
£514
£614
Commercial
No accommodation
£443
£543
Commercial
On-site twin accommodation
£549
£649
Commercial
On-site single accommodation
£614
£714
The registration fee includes entrance to the lectures and poster sessions, an abstract book, meals (lunch and dinner) and refreshments during the conference. Breakfast will be provided for delegates who have booked accommodation.
Accommodation
Accommodation is provided for the nights of 16. and 17. October 2019. Please note: there is limited onsite accommodation and this will be allocated on a first-come, first-served basis. Therefore, early registration is recommended.
If you wish to book onsite accommodation either side of the conference dates, please contact the Conference Centre directly.
Travel visas
Contact the conference organiser if you require a letter to support a travel visa application. Please note: letters will only be provided to confirmed registrants.
Non-European Economic Area or Swiss nationals may be required to have a visa to enter the UK.
Early application is strongly advised, as this process can take 6-8 weeks or longer.
Please visit the following websites for further information:
---
Accommodation services phishing scam – please be vigilant. More information.
Cost
A limited number of registration bursaries are available for PhD students to attend this conference (up to 50% of the standard registration fee) from Wellcome Genome Campus Scientific Conferences.
To apply, please contact the conference organiser. You will be sent a unique registration link which will hold your place, without taking payment, until you have been notified of the outcome of your application.
The following documents will need to be provided as part of the bursary application:
Abstract (to be submitted via the portal during the registration process)
CV
A justification letter (explain how you will benefit from attending the conference)
A supporting letter from supervisor stating financial need
If you have already registered for the conference you are still welcome to apply for a bursary, please contact the conference organiser.
Bursary deadline: 9 July 2019
Additional funding opportunities
Visit our support page for additional financial support currently available.
Abstracts
We welcome abstracts from all areas relevant to the main themes of the meeting, for both oral and poster presentations. Several oral presentations will be chosen from the abstracts submitted.
Abstracts will only be considered from registered delegates. Please use our online abstract submission system and follow the instructions given to ensure your abstract is submitted correctly. All abstracts must be submitted by the deadline. If you are intending to submit more than one abstract, please contact the conference organiser prior to registration.
The scientific programme committee will assess your abstract after the deadline has passed and you will be notified whether you have been selected for an oral or poster presentation.
Poster boards onsite will accommodate 118 cm high by 84 cm wide (A0- portrait) of printed material. Accepted abstracts will appear in the conference programme book and poster boards will be allocated at the conference.
Abstract deadline: 17 September 2019

How to upload an abstract once you have already completed registration:
Log back into your registration account by clicking here (you will need to be using either Firefox or Internet Explorer as your browser)
Once you are logged in, click on 'Account' (top right)
Then click on 'View account history'. This will show a table of your event registrations.
In the right-hand column you will see the option to 'Upload file' – click on this and select to upload an abstract.
Download abstract guidelines (78 KB)
Back to top