Epigenomics of Common Diseases
6–8 November 2019
Wellcome Genome Campus, UK
Discussing the future of epigenomic studies of common diseases
Summary
We are pleased to announce the 8th Epigenomics of Common Diseases conference and invite scientists working on experimental and computational epigenomics and epigenetics to showcase the latest developments in the field and discuss epigenomic approaches in common human diseases.
Epigenetic variation plays an important role in disease processes and provides a promising focus for disease prediction, prevention and treatment. Technological advancements in the past few years have fuelled a dramatic increase in the scale, breadth and availability of epigenomic reference maps, including populational and environmental epigenomic datasets.
This year's conference will cover a broad spectrum of epigenomic discoveries, opportunities, and also challenges, in human normal biology and in disease.
Conference poster
Download the poster for Epigenomics of Common Diseases to share with your colleagues!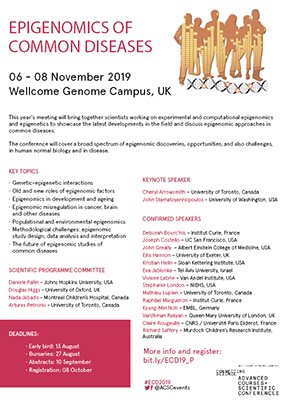 Programme
The conference will start at 12.30 on Wednesday, 6 November and close at 14.00 on Friday, 8 November 2019.
Topics will include:
Genetic-epigenetic interactions
Old and new roles of epigenomic factors
Epigenomics in development and ageing
Epigenomic misregulation in cancer, brain and other diseases
Populational and environmental epigenomics
Methodological challenges: epigenomic study design, data analysis and interpretation
The future of epigenomic studies of common diseases
A draft programme will be available shortly.
Organisers and speakers
Scientific programme committee
Keynote speakers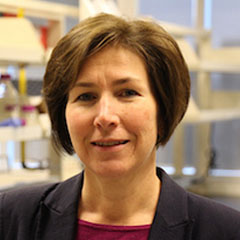 Cheryl Arrowsmith
University of Toronto, Canada
John Stamatoyannopoulos
University of Washington & Altius Institute, USA
Confirmed speakers
Deborah Bourc'his – Institut Curie, France
Joseph Costello – UC San Francisco, USA
John Greally – Albert Einstein College of Medicine, USA
Eilis Hannon – University of Exeter, UK
Kristian Helin – Sloan Kettering Institute, USA
Eva Jablonka – Tel Aviv University, Israel
Viviane Labrie – Van Andel Institute, USA
Stephanie London – NIEHS, USA
Mathieu Lupien – University of Toronto, Canada
Raphäel Margueron – Institut Curie, France
Kyung-Min Noh – EMBL, Germany
Vardhman Rakyan – Queen Mary University of London, UK
Claire Rougeulle – CNRS / Université Paris Diderot, France
Richard Saffery – Murdoch Children's Research Institute, Australia
Conference organiser
Nicole Schatlowski, Scientific Programme Officer
Laura Hubbard, Conference and Events Manager
How to apply
Early bird discount
(until 13 August)

Standard rate
(after 13 August)
Student
No accommodation
£269
£369
Student
On-site accommodation
sold out
sold out
Academic
No accommodation
£369
£469
Academic
On-site accommodation
sold out
sold out
Commercial
No accommodation
£469
£569
Commercial
On-site accommodation
sold out
sold out
The registration fee includes entrance to the lectures and poster sessions, an abstract book, meals (lunch and dinner) and refreshments during the conference. Breakfast will be provided for delegates who have booked accommodation.
Accommodation
Please note: Onsite accommodation has sold out.
You can book accommodation nearby at the Holiday Inn Express, Whittlesford.
The Holiday Inn is a 5-min drive from the campus.
Please inform the organiser if you are staying there to assist with arranging transport to and from the conference venue.
If you wish to book onsite accommodation either side of the conference dates, please contact the Conference Centre directly.
Travel visas
Contact the conference organiser if you require a letter to support a travel visa application. Please note: letters will only be provided to confirmed registrants.
Non-European Economic Area or Swiss nationals may be required to have a visa to enter the UK.
Early application is strongly advised, as this process can take 6-8 weeks or longer.
Please visit the following websites for further information:
---
Accommodation services phishing scam – please be vigilant. More information.
Cost
A limited number of registration bursaries are available for PhD students to attend this conference (up to 50% of the standard registration fee) from Wellcome Genome Campus Scientific Conferences.
To apply, please contact the conference organiser. You will be sent a unique registration link which will hold your place, without taking payment, until you have been notified of the outcome of your application.
The following documents will need to be provided as part of the bursary application:
Abstract (to be submitted via the portal during the registration process)
CV
A justification letter (explain how you will benefit from attending the conference)
A supporting letter from supervisor stating financial need
If you have already registered for the conference you are still welcome to apply for a bursary, please contact the conference organiser.
Bursary deadline: 27 August 2019
Additional funding opportunities
Visit our support page for additional financial support currently available.
Abstracts
We welcome abstracts from all areas relevant to the main themes of the meeting, for both oral and poster presentations. Several oral presentations will be chosen from the abstracts submitted.
Abstracts will only be considered from registered delegates. Please use our online abstract submission system and follow the instructions given to ensure your abstract is submitted correctly. All abstracts must be submitted by the deadline. If you are intending to submit more than one abstract, please contact the conference organiser prior to registration.
The scientific programme committee will assess your abstract after the deadline has passed and you will be notified whether you have been selected for an oral or poster presentation.
Poster boards onsite will accommodate 118 cm high by 84 cm wide (A0- portrait) of printed material. Accepted abstracts will appear in the conference programme book and poster boards will be allocated at the conference.
Abstract deadline: 10 September 2019

How to upload an abstract once you have already completed registration:
Log back into your registration account using either Firefox or Internet Explorer as your browser, via link above the 'Share' button on the right hand column of this page
Click on 'Account' (top right).
Then click on 'View account history'. This will show a table of your event registrations.
In the right-hand column you will see the option to 'Upload file' – click on this and select to upload an abstract.
Download abstract guidelines (78 KB)
Back to top